NEXT CLOVIS ART GUILD MEETING
SECOND WEDNESDAY OF EACH MONTH
EXCEPT NOVEMBER, DECEMBER & JANUARY
July 13th 7:00 PM - 9:00 PM at the
Clovis Veterans Memorial District
Patriot Room
808 4th Street
Clovis CA 93612
PROGRAM
The program at each meeting consists either of:

an art demonstration by a well-known artist
a paint-along or other art activity

a figure drawing with a live model
an evening of critiques of the members' art work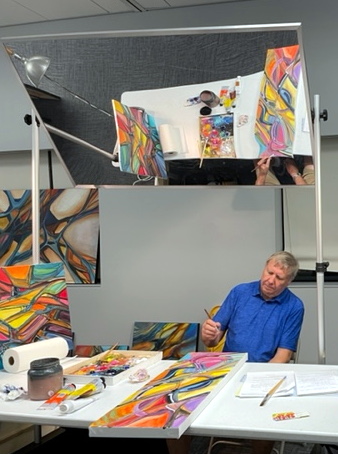 Our art demonstrater for the month of jUNE 2022 was paul stommel
Paul was born in Amsterdam, Holland, the oldest of six children. At the age of 10, Paul immigrated with his Dad, Mom, two brothers and three sisters to the United States. He graduated in 1964 from McLane High School in Fresno. He served in the Army for 2 years and was stationed at Fort Hood, Texas.
After leaving the military, Paul went into the field of Architecture, became a licensed architect in 1988, and just recently retired after 41 years. He has been involved in art throughout his life but now being retired, hopes to dedicate more time to explore the creation of art.
He has received several honor awards for his art.
• Fresno Chamber of Commerce "Blossom Trail" poster award.
• Channel 18 Public Television Award - Paul's painting was selected to be the "poster" for the year that is sold to raise money for the network.
• Paul's work has also been chosen to be a "gift" for a visiting Chamber of Commerce Member for the Sister City of Fresno in Kochi, Japan.
• He has had several one-man exhibitions at Fresno City Hall, Fresno Convention Center and art galleries in the Fresno area.
• He has received many ribbons in art showings from the Fresno Fair, at a local shopping mall and peer art competitions along with the local Art Hop every month for several years.
june 2022
PICK OF THE MONTH
WHAT IS THE PICK OF THE MONTH?
Pick of the Month is an informal contest at each general meeting for our members to bring examples of their artwork to be displayed in a peer gallery and voted on during the mid-meeting coffee break that includes light refreshments. Winners are announced toward the end of the meeting and certificates awarded. We'd like to see what you've been working on (work done in class is ok). art should be finished and in a ready-to-hang condition (framed unless its gallery wrap). we need at least 7 entries to award 3 places, so please participate! at the end of the year first-place winners will compete for pick of the year.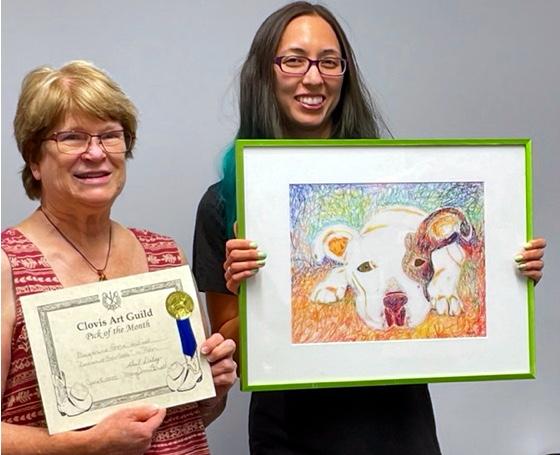 1 ST.

MEGANNE 'PIE' GORE "coconut" scribble pen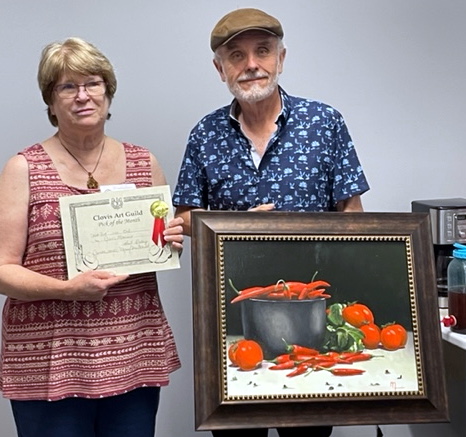 2 ND. JIM MORRIS "HOT POT' OIL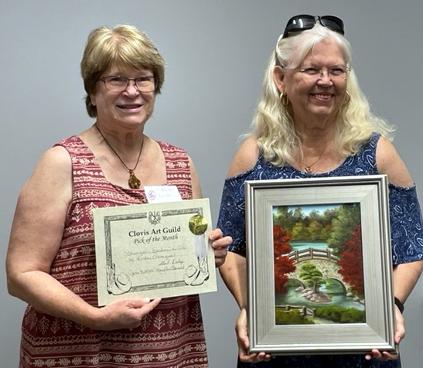 3 RD. linda oberquell "SHINZEN garden' oil
WHAT IS THE FEATURED ARTIST?
Featured artist is a way for our members to get to know each other by showing everyone their work in the safe environment of a general meeting. Even if you are just a beginning artist, please consider becoming a featured artist. If you have questions, please contact,
Carole Anderson
for more information.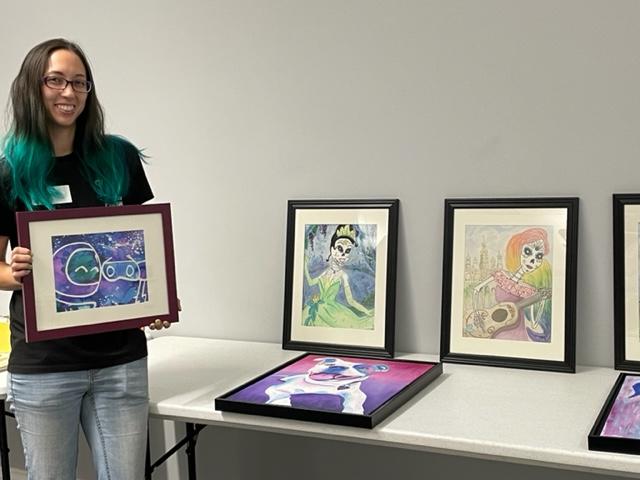 JUNE 2022 - MEGANNE 'PIE' GORE
Meganne Gore also known as "Pie" to family and friends was born and raised in Fresno, CA. She has loved being married to Jeremy and loves being a dog mom to a rescue pit bull named Mochi. Meganne has enjoyed being the secretary for the Clovis Art Guild over 5 years.

Her colorful paintings are often inspired by Disney movies and characters, her Japanese heritage, a love of nature and her dogs. She enjoys painting in acrylics, watercolors, making ceramics, amateur photography and is always willing to learn new techniques or try new mediums.
Meganne has always loved art and making crafty things including jewelry, origami pieces, and ceramic sculptures. She has taken art courses in her school years from middle school to high school, and college courses at Santa Monica City College.
Her artwork has been displayed in several Clovis Art Guild shows, The Big Fresno Fair and Alliance of California exhibits and Sorensen's Art Gallery. She has won awards in the CAG "Miniature Show" , Fall Open Show " and the Big Fresno Fair.
When not on display in her own home, most of her artwork is adorning the walls of family and friends homes.
The Featured Artist for July will be Gail Daley
UPcOMING MEETINGs
JULY 2022
Demonstration Artist for July will be Deborah Pepin
She will be doing a pastel demonstration. In April she was the Best of Show winner, the People's Choice Award winner, 1st place winner in the M/M / Pastel / Drawing combined category, and winner of the Mary Krause Award at the CAG Old West and Rodeo Art Show.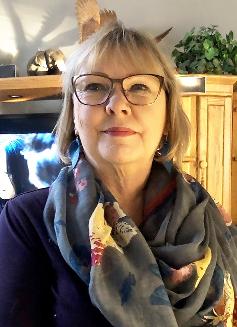 HOW TO FIND US
Clovis Veterans Memorial District, 808 4th Street, Clovis, CA 93612
© Clovis Art Guild 2022. All rights Reserved.