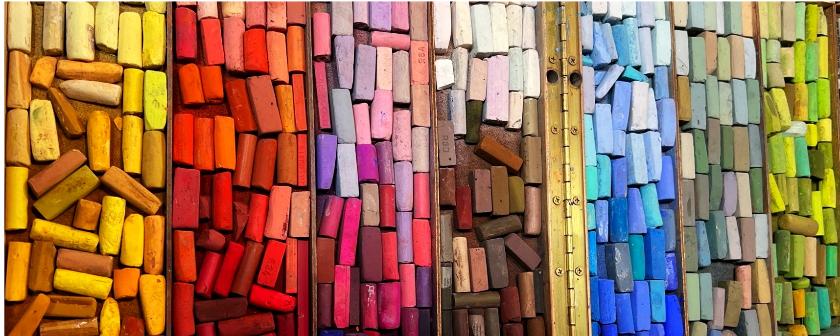 Board Meeting January 11th at 4:30 Denney's on Shaw & wILLOW
NEXT CLOVIS ART GUILD MEETING
SECOND WEDNESDAY OF EACH MONTH
EXCEPT NOVEMBER, DECEMBER & JANUARY
February 8th 2023 7:00 PM - 9:00 PM at the

Clovis Veterans Memorial District
Patriot Room
808 4th Street
Clovis CA 93612
PROGRAM
The program at each meeting consists either of:

an art demonstration by a well-known artist
a paint-along or other art activity

a figure drawing with a live model
an evening of critiques of the members' art work
LOLA NELSON - wood working Artist
October 2022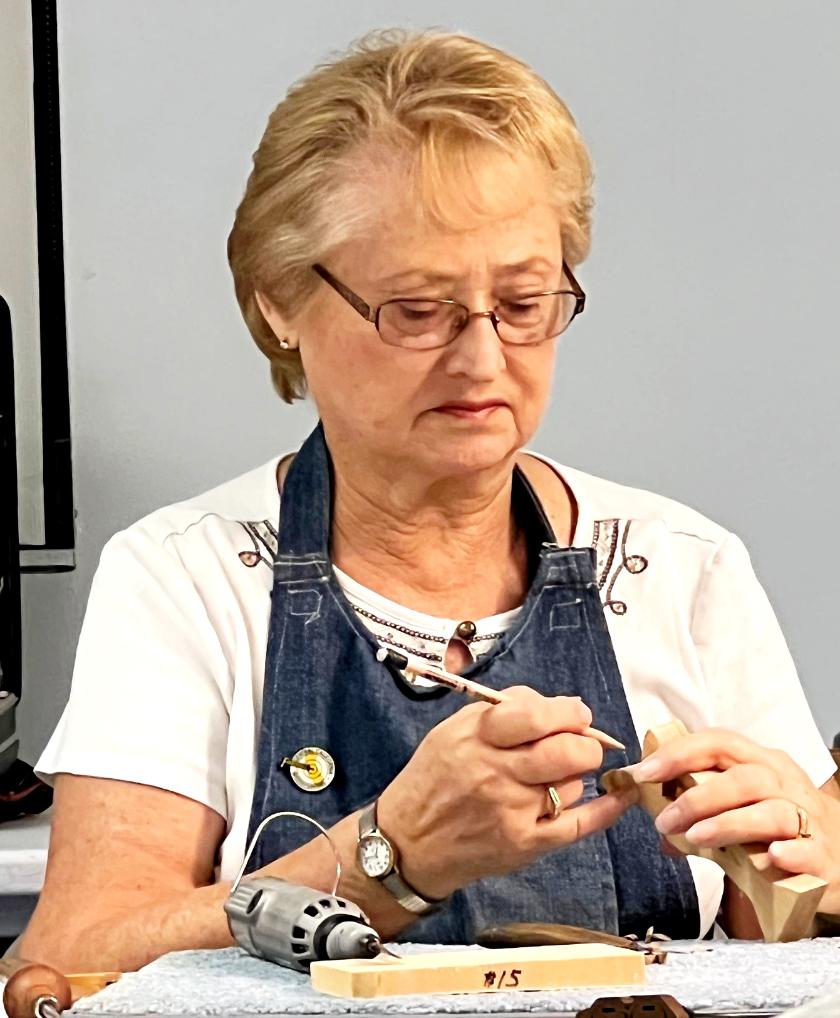 I originally started drawing and painting with oils and watercolors and graduated from Art Instruction Schools in Minneapolis. My paintings and wood sculptures have won many top awards throughout the US and many have been sold worldwide. I'm a signature award holder with Society of Western Artists, Women Artists of the West, and Alliance of California Artists.
My fascination with wood started in 1986. I was raised on a family farm in the Catskill Mountains. Farm animals and wildlife were readily viewed every day. In 1991 I entered my first wood carving show and took second place. This was just the beginning of winning many top awards in local fairs and carving shows throughout California as well as National and International shows. Horses and a variety of North American wildlife, cowboys, mountain men and Indians are my favorite subjects.
My husband and I have traveled throughout the US Parks and Canada and taken many photos of wildlife. Yellowstone and Grand Tetons, British Colombia and Alberta have been our favorite spots to capture wildlife. I later look at our photos and decide whether to create a wood sculpture or a painting.
I'm a member of Central California Wood Carvers, California Carvers Guild and the National Wood Carvers Association, Society of Western Artists, Women Artists of the West and Clovis Art Guild.
I've been frequently called to judge shows and do demonstrations. I've taught both carving and painting for several years. In 2017, I was invited to participate in the International Wood Culture Society show held in Long Beach as a part of a team representing the United States. There were over 100 countries in attendance showing their wood creations.
YEAR OF 2022
PICK OF THE YEAR
WHAT IS THE PICK OF THE MONTH & pICKOF THE YEAR?
Pick of the Month is an informal contest at each general meeting for our members to bring examples of their artwork to be displayed in a peer gallery and voted on during the mid-meeting coffee break that includes light refreshments. Winners are announced toward the end of the meeting and certificates awarded. We'd like to see what you've been working on (work done in class is ok). art should be finished and in a ready-to-hang condition (framed unless its gallery wrap). we need at least 7 entries to award 3 places, so please participate! at the end of the year first-place winners will compete for pick of the year.
At the last meeting of the year all the Pick of the Month first place winners are presented and the members vote on their favorite work for the year.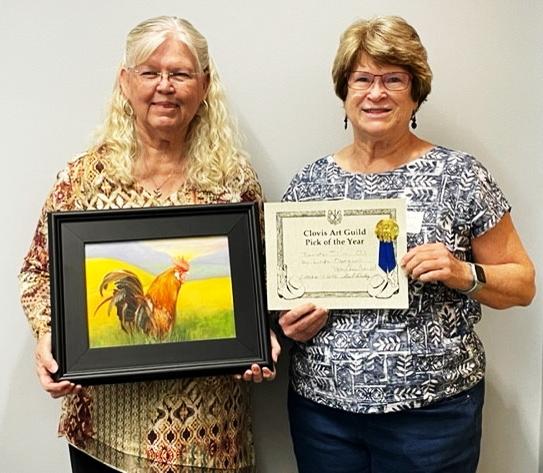 Artist of the year 2022 - Linda Oberquell Rooster #1 oil
October 2022

FEATURED ARTIST
WHAT IS THE FEATURED ARTIST?
Featured artist is a way for our members to get to know each other by showing everyone their work in the safe environment of a general meeting. Even if you are just a beginning artist, please consider becoming a featured artist. If you have questions, please contact,
Carole Anderson
for more information.
No featured artist for the month of October
Winner of Nicholas Garza drawing. Meganne Gore
HOW TO FIND US
Clovis Veterans Memorial District, 808 4th Street, Clovis, CA 93612
© Clovis Art Guild 2022. All rights Reserved.