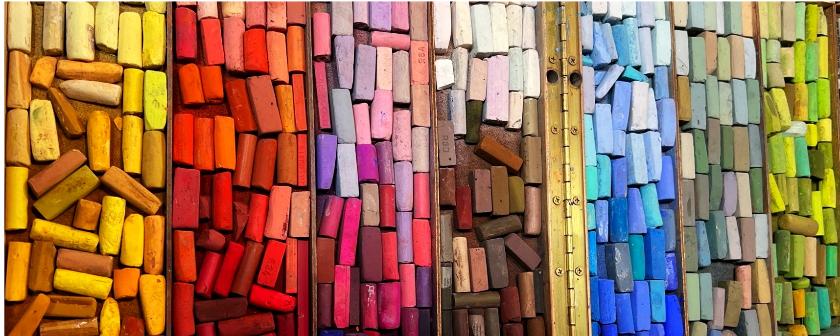 Board Meeting June 7th at 4:30 Denney's on Shaw & wILLOW
NEXT CLOVIS ART GUILD MEETING
SECOND WEDNESDAY OF EACH MONTH
EXCEPT NOVEMBER, DECEMBER & JANUARY
May 10th 2023 7:00 PM - 9:00 PM at the

Clovis Veterans Memorial District
Patriot Room
808 4th Street
Clovis CA 93612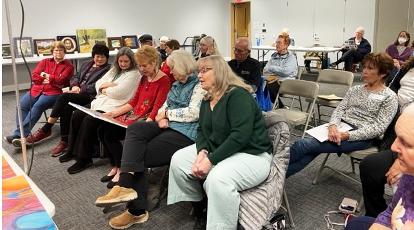 Some of the members attending the February 2023 meeting.
PROGRAM
The program at each meeting consists either of:

an art demonstration by a well-known artist
a paint-along or other art activity

a figure drawing with a live model
an evening of critiques of the members' art work
Eileen Rounsaville will be our May Demonstrator
Eileen had 3 paintings in the show with one winning Best of Show "Garabaldi" Acrylic.
Our May featured artist is MaryAnn Ferstl
We will be having a drawing for Lola Nelson's carving she did and donated the last time she demonstrated, thank you Lola .
Bring in your painting for Pick of the Month. Sorry I don't know the winners for last month.
WHAT IS THE PICK OF THE MONTH & pICK OF THE YEAR?
Pick of the Month is an informal contest at each general meeting for our members to bring examples of their artwork to be displayed in a peer gallery and voted on during the mid-meeting coffee break that includes light refreshments. Winners are announced toward the end of the meeting and certificates awarded. We'd like to see what you've been working on (work done in class is ok). art should be finished and in a ready-to-hang condition (framed unless its gallery wrap). we need at least 7 entries to award 3 places, so please participate! at the end of the year first-place winners will compete for pick of the year.
At the last meeting of the year all the Pick of the Month first place winners are presented and the members vote on their favorite work for the year.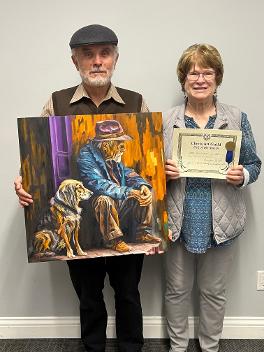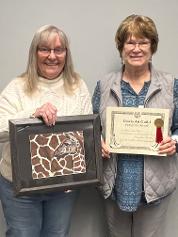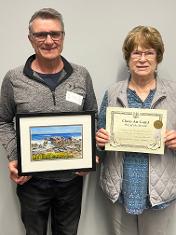 April 2023

FEATURED ARTIST
DAVID DALGETY
2nd. - Susan Patterson Ascending Jelly Watercolor
3rd.- Linda Oberquell Buds & Blooms Oil
WHAT IS THE FEATURED ARTIST?
Featured artist is a way for our members to get to know each other by showing everyone their work in the safe environment of a general meeting. Even if you are just a beginning artist, please consider becoming a featured artist. If you have questions, please contact,
Carole Anderson
for more information.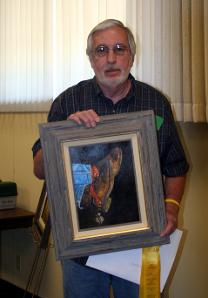 April 2023

FEATURED ARTIST
David Dalgety

David is from a small town in Kansas. After High school, he spent for years in UASF. After the service he worked in retail sales, Men's Wear at Gottschalks and Stevens Men's Wear. He also worked as outside sales in Service Paper Products, Tura LTD, and then for 22 years at Riverside Golf Course in Fresno.

When he retired, he started art classes at McCoy's Art Studio in Clovis. He joined Clovis Art Guild. David has received many awards in juried shows, including the coveted Mary Krause Award, People's Choice, and many times he won awards at the Art Guild's Art Shows. His style is Representational Realism, and his preferred media is oils.

HOW TO FIND US
Clovis Veterans Memorial District, 808 4th Street, Clovis, CA 93612
© Clovis Art Guild 2022. All rights Reserved.