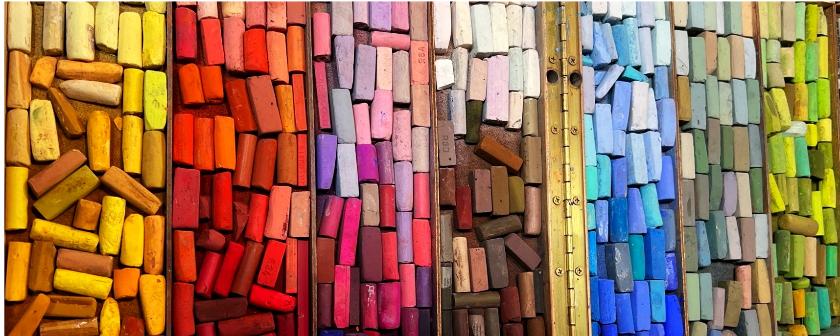 Board Meeting mARCH 1st at 4:30 Denney's on Shaw & wILLOW
NEXT CLOVIS ART GUILD MEETING
SECOND WEDNESDAY OF EACH MONTH
EXCEPT NOVEMBER, DECEMBER & JANUARY
March 8th 2023 7:00 PM - 9:00 PM at the

Clovis Veterans Memorial District
Patriot Room
808 4th Street
Clovis CA 93612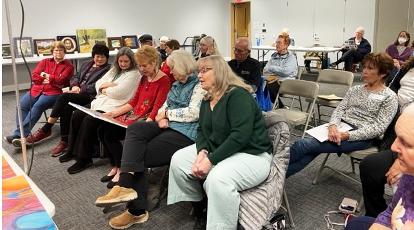 Some of the members attending the February 2023 meeting.
PROGRAM
The program at each meeting consists either of:

an art demonstration by a well-known artist
a paint-along or other art activity

a figure drawing with a live model
an evening of critiques of the members' art work
Paul Stommel to demo in Acrylics

February 2023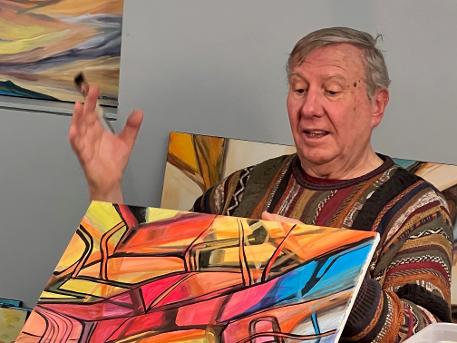 Paul was born in Amsterdam, Holland, the eldest of six children. At the age of 10, Paul immigrated with his family to the United States. He graduated in 1964 from McLane High School in Fresno. He served in the Army for 2 years and was stationed at Fort Hood Texas.
After leaving the military, Paul became a licensed architect, and just recently retired.
He has been involved in art throughout his life, but now hoes to dedicate more time to explore art creation.
He has received many awards for his art:
Fresno Chamber of Commerce "Blossom Trail Poster" award
Channel 18 Public Television Award. Paul's painting was selected to be the poster for the year it was sold to raise money for the network.
His work has been chosen to be a gift for a visiting Chamber of Commerce Member from Fresno's Sister City in Kochi, Japan
He has had several one-man shows at Fresno City Hall, Fresno Convention Center, and various art galleries in the Fresno Area.
He has received many ribbons from the Fresno Fair Art Exhibit, and peer art competitions.

WHAT IS THE PICK OF THE MONTH & pICK OF THE YEAR?
Pick of the Month is an informal contest at each general meeting for our members to bring examples of their artwork to be displayed in a peer gallery and voted on during the mid-meeting coffee break that includes light refreshments. Winners are announced toward the end of the meeting and certificates awarded. We'd like to see what you've been working on (work done in class is ok). art should be finished and in a ready-to-hang condition (framed unless its gallery wrap). we need at least 7 entries to award 3 places, so please participate! at the end of the year first-place winners will compete for pick of the year.
At the last meeting of the year all the Pick of the Month first place winners are presented and the members vote on their favorite work for the year.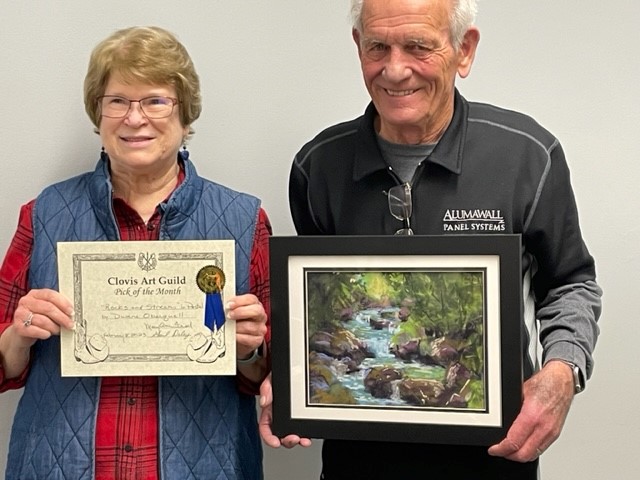 1st. Duane Oberquell Rocks & Stream pastel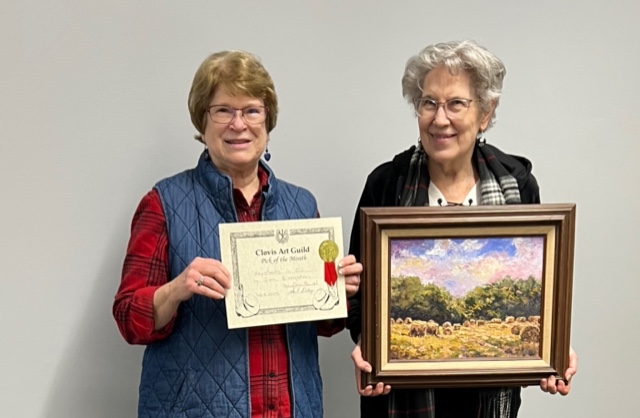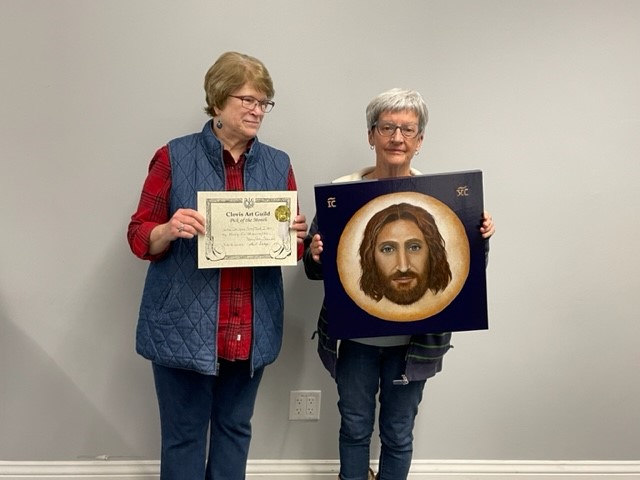 2nd. June Livingston Haystacks oil
3rd. Mary Fotheringham
Who Do You Say That I Am? Acrylic

Work entered for February Artist of the Month.
WHAT IS THE FEATURED ARTIST?
Featured artist is a way for our members to get to know each other by showing everyone their work in the safe environment of a general meeting. Even if you are just a beginning artist, please consider becoming a featured artist. If you have questions, please contact,
Carole Anderson
for more information.
February 2023

FEATURED ARTIST
Shirley Lindgren
A representational painter who loves to paint the flowers from her gardens, Central Coast Scenes, and landscapes of California.

Shirley began her formal training with Arden von Dewitz in Southern California. When the Lindgren Family moved to Fresno, she enrolled in Fresno City College and Clovis Adult School, taking classes from the area's best art instructors.

It was the late Lawrence Beane SWA who introduced Shirley to soft pastels. Further studies in pastel with notables Thomas Leighton, Albert Handell, and Urania Christy Tarbot, provided her with the ability to teach pastel painting.

Acrylic and Oil Painting studies with Jerome Grimmer, Carlene Kostiw, Joyce Pike, and other highly qualified artists have added to her knowledge, which she feels is an on-going experience. She has given demonstrations and workshops and has acted as a jurorthroughout the San Joaquin Valley. Her work is in collections in Canada, U.S.A., Australia, and Greece.

Shirley is a member of the Pastel Society of the West Coast, Morro Bay Art Association, Cayucos Art Association, and is a past president of the Clovis Art Guild, and San Joaquin Valley Chapter of the Society of Western Artists.
Her paintings have won many awards, including Best of Show in the Clovis Old West Art Festival.

YEAR OF 2022
PICK OF THE YEAR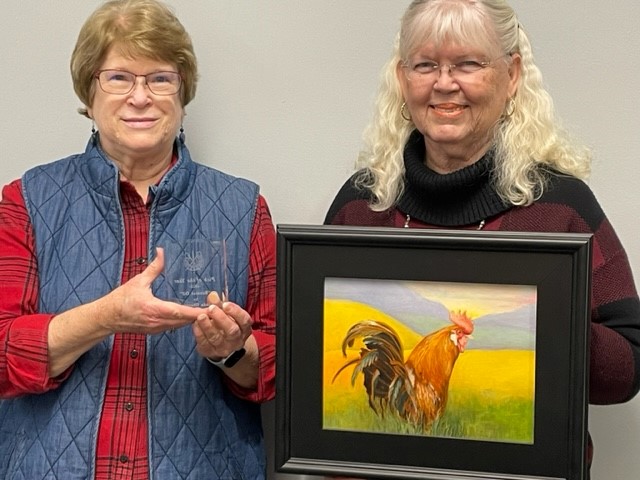 Artist of the year 2022 - Linda Oberquell Rooster #1 oil
HOW TO FIND US
Clovis Veterans Memorial District, 808 4th Street, Clovis, CA 93612
© Clovis Art Guild 2022. All rights Reserved.