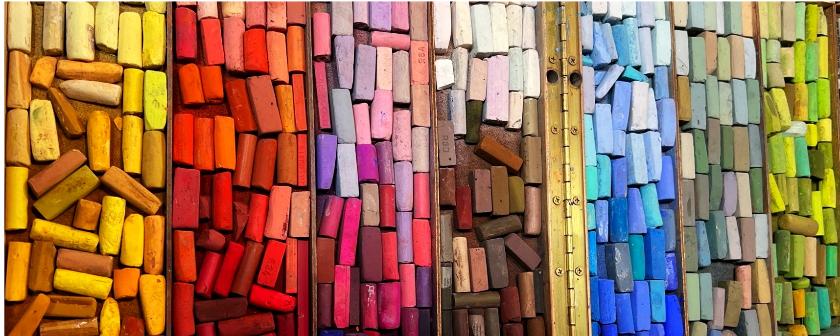 Board Meeting october 4TH at 4:30 Denney's on Shaw & wILLOW
NEXT CLOVIS ART GUILD MEETING
SECOND WEDNESDAY OF EACH MONTH
EXCEPT NOVEMBER, DECEMBER & JANUARY
October 11th 2023 7:00 PM - 9:00 PM at the

Clovis Veterans Memorial District
Patriot Room
808 4th Street
Clovis CA 93612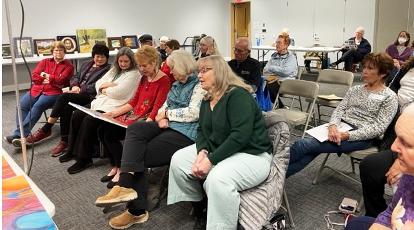 Some of the members attending the February 2023 meeting.
PROGRAM
The program at each meeting consists either of:

an art demonstration by a well-known artist
a paint-along or other art activity

a figure drawing with a live model
an evening of critiques of the members' art work
paul buxman
will be our september Demonstrator
It is easy to miss the beauty of the San Joaquin Valley when you live in the middle of it. The summer
heat and the haze can be stifling and the fight to hold on to a small family farm can possess almost
every thought. But when the last peach has been picked and the last grapes hauled in, fall finally
comes. Shadows lengthen, temperatures cool, and there is once again time to reflect and be thankful
for this great valley we call home. It's time again to gather the 'visual harvest.' – Paul Buxman
Paul grew up on a small farm in the heart of the San Joaquin Valley in California at the foot of
Smith Mountain which rises singularly like an island from the valley floor. "It was a magic landscape
of hayfields, vineyards, wild blackberry lined canals, peach orchards, orange groves and cows. The
high Sierras filled our eastern view and to the west were endless small farms which seemed to reach
clear to the Pacific Ocean."
Paul left the farm to study impressionist painting in Illinois with Karl Steele, a student of Robert
Henri. He then returned to California to teach and principal a small mountain school while teaching
figure painting at the Fresno Art Museum. In 1980 he devoted himself to full time painting and
farming. Two years later his son, Wyeth, developed leukemia which sent Paul on an environmental
quest to clean up the San Joaquin Valley's rapidly deteriorating water, soil and air quality. He
pioneered clean farming techniques which led to many sustainable practices used today. He was the
first person honored by the EPA for such work. He went on to champion farm land and farm family
preservation. His artwork became his illustrative voice. It hangs today in our nation's Capital as "a
reminder to our leaders of what we must preserve."
Paul's work as an environmentalist and artist has been documented by National Geographic,
American, Canadian and Australian Public Broadcasting, Bill Moyers, and California Heartland. He
has lectured, taught and shown his work throughout much of the western United States in universities
and museums.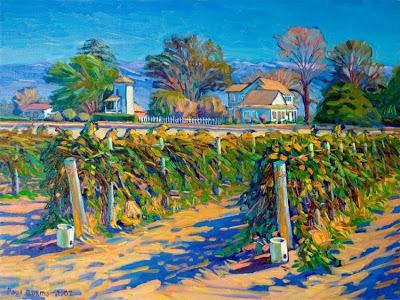 WHAT IS THE PICK OF THE MONTH & pICK OF THE YEAR?
Pick of the Month is an informal contest at each general meeting for our members to bring examples of their artwork to be displayed in a peer gallery and voted on during the mid-meeting coffee break that includes light refreshments. Winners are announced toward the end of the meeting and certificates awarded. We'd like to see what you've been working on (work done in class is ok). art should be finished and in a ready-to-hang condition (framed unless its gallery wrap). we need at least 7 entries to award 3 places, so please participate! at the end of the year first-place winners will compete for pick of the year.
At the last meeting of the year all the Pick of the Month first place winners are presented and the members vote on their favorite work for the year.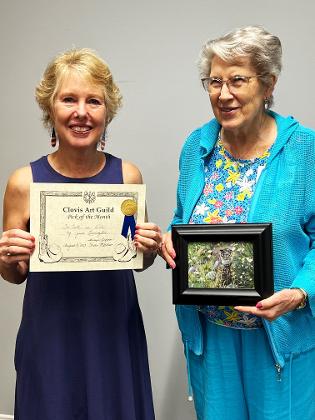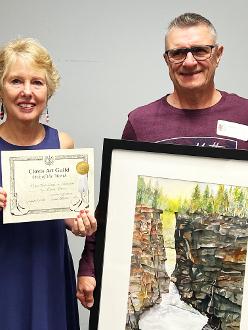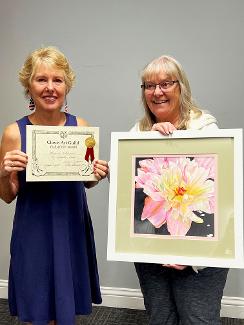 August 2023

FEATURED ARTIST
DAVID DALGETY
WHAT IS THE FEATURED ARTIST?
Featured artist is a way for our members to get to know each other by showing everyone their work in the safe environment of a general meeting. Even if you are just a beginning artist, please consider becoming a featured artist. If you have questions, please contact,
Carole Anderson
for more information.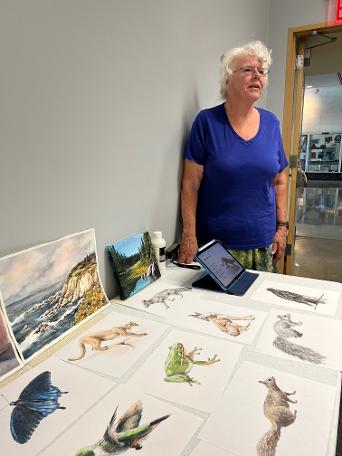 July 2023

FEATURED ARTIST
Deanna Bristow
August Demonstrator
Shannon Grissom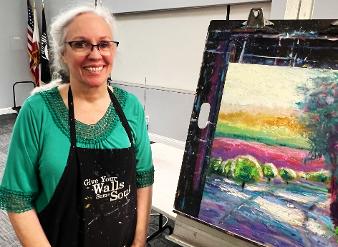 HOW TO FIND US
Clovis Veterans Memorial District, 808 4th Street, Clovis, CA 93612
© Clovis Art Guild 2022. All rights Reserved.