Benefits of Membership
Fun, informative art demonstrations and mini hands-on classes by master artists during the general meetings.

Workshops with master artists where you can sharpen your artistic skills.

A no cost gallery to show your work at a local library

3 juried open shows a year.

Opportunities to meet friendly, like-minded artists in the informal setting of the general meetings, and become a part of helping the art community grow and develop.
Where to Find us
Board Meetings are the 1st Wednesday of each month, except November and December. 5:00— 7:30 PM at the Dennys on Shaw and Willow.
General Meetings and demonstrations are the 2nd Wednesday of each month February — October from 7 — 9 PM at the Clovis Veterans Memorial Building, 808 4th St, Clovis, CA 93612.
Clovis Art Guild currently exhibits our members work at the Sunnyside Library Gallery. The map is below. The gallery is open during library hours.
MAP TO THE CLOVIS VETERAN'S CENTER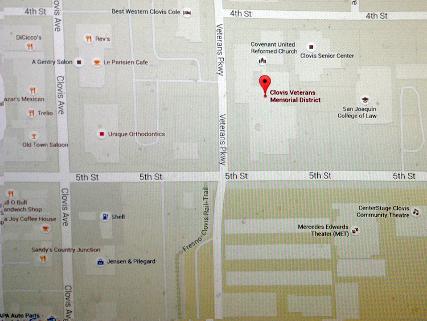 © Clovis Art Guild 2012. All rights Reserved.
About Clovis Art
Guild
Members of the Clovis Art Guild are artists, would-be artists and persons interested in the arts. Clovis Art Guild is the Oldest Art Association in the Clovis/Fresno Area. It was established in 1957 to provide art-related activities to interested members of the community. The Guild's purpose is to promote fellowship among artists, encourage enjoyment, understanding and appreciation of the arts within the community and to offer, shows, exhibits, programs, demonstrations and workshops to artists and art lovers. Membership dues are $30.00 per year, due January 1st.

Meetings are held the 2nd Wednesday of each month, February through October at the Veterans' Memorial Building 804 5th Street (4th & Hughes[recently renamed Veteran's Parkway]) in Clovis, California. Meetings begin at 7:00 p.m. The Guild does not hold meetings from November to January.
The program at each meeting consists of a demonstration by a well-known artist, a paint-along or hands-on demo, figure drawing with a live model or an evening of critiques of member's artwork by a well-known artist.
At each meeting, Members are encouraged to bring in their art for Pick of the Month. During the meeting, members and guests vote and one will be chosen as "Pick Of The Month" and awarded a certificate. At the end of the year, all 1st place paintings are voted on for Pick of The Year and a trophy is awarded.
C.A.G. has three juried open shows each year; The Old West and Rodeo show in April in conjunction with the Clovis Rodeo, the Miniature Works Fine Art show in July and the Fall Open Fine Art Show in October.
A monthly e-mail newsletter is sent out to each member with pertinent information, announcements of next month's program and other matters of interest to artists. Black and white hard copies of the newsletter are sent to members who don't have e-mail or don't wish to receive the e-mail format.

CONTACT US
CAG@clovisartguild.com

Gail Daley President (559) 960-2428
Alice Sutton Membership (559) 787-2386