2023 Fall Fine Art Open Show
November 22 – 28, 2023
The Vineyards The Armenian Home Fresno
6694 E. Kings Canyon Rd. In the Community Room
Open to the public
2023 FALL ART SHOW AWARDS
SPONSORED BY CLOVIS ART GUILD
BEST OF SHOW # 104 Deborah Pepin The January Ranch Oil
OILS & ACRYLYCS
Award # Artist Title Media
1st place 101 Joyce Orr Jubilant Flowers OIL
2nd place 12 Joyce Orr Rejoice in the Harvest OIL
3rd place 103 Joyce Orr God's Garden OIL
Hm1 202 A. J. Sutton Landscape ACRYLICS
Hm2 203 Jacki McCoy Indian Paint Brush ACRYLICS
Hm3 204 Eileen Rounsville Music Never Dies ACRYLICS
WATERCOLOR
Award # Artist Title Media
1st place 307 Susan Patterson His Glory WATERCOLOR
2nd place 301 June Livingston A Cat's Dream WATERCOLOR
3rd place 319 Brad Davis Spring Runoff WATERCOLOR
Hm1 316 Judi Leas Ballet Ring WATERCOLOR
Hm2 303 Chieko Delgado Red-Winged Blackbird WATERCOLOR
Hm3 316 Elieen Rounsville Sage WATERCOLOR
Hm4 311 Georgia Verduzco Nature's Paint Brush WATERCOLOR
Hm5 306 Elizabeth Olive Blooming WATERCOLOR
DRAWING/GRAPHICS/PASTELS/MIXED MEDIA
Award # Artist Title Media
1st place 401 Becky Matli Quiet Time PASTELS
2nd place 602 Nancy Tan At Crossroads MIXED MEDIA
3rd place 403 Deborah Pepin Morning Warmth PASTELS
Hm1 603 Nancy Tan Color Symphony MIXED MEDIA
Hm2 401 Mary Ann Ferstl Quiet Time PASTELS
Hm3 503 A. J.Sutton Peaceful Falls DRAWING/GRAPHICS
Hm3 601 Chieko Delgado Blue Roses MIXED MEDIA
CATEGORIES: This is an Open Show. ALL subjects may be entered in Oils, Acrylics, Watercolor, Pastel, Drawing/Graphics, Mixed Media and Sculpture/3-D Art. (will not except art with graphic violence, erotic or nude art) This show may be juried. ENTRY FEES are $25.00 per art piece for nonmembers and $20.00 per art piece for CAG members. Entry fees are non-refundable. SIZE IS RESTRICTED The maximum size including frame is 42" x 42", maximum weight 25 lbs. Artists entering sculptures or other 3-D media that are too large or too heavy (maximum 25 lbs) to fit on a display table should provide their own pedestal. RECEPTION / AWARD CEREMONY: Thur. Nov. 10th from 4:00pm – 7:00pm. The public is welcome. Awards will be given out this night. CAG does not mail out awards; they must be picked up in person. Please be there to accept your award! LIABILITY: All show entries will be handled with the greatest care, but neither the Vineyards, The Armenian Home or the Clovis Art Guild will be held responsible for any loss or damage whatsoever to any entry, before, during, or after the show. Artists should carry their own insurance. PRIZE MONEY: Cash prizes will be offered for Best of Show, 1st, 2nd, 3rd Place. For monetary awards, a Category (or a combined categories) must have at least 7 entries. Honorable Mentions will be awarded ribbons. SHOW HOURS: Show is open from 10am to 6pm ART PICKUP IS Saturday Nov 12 th , 3-4pm, at the show location. Please be on time. Storage of your art not picked up from the show is not an option. If you cannot be present during art pickup, please arrange for someone else to pick up your art. SALES are handled by the artists. A 10% donation to CAG is customary and appreciated. Please price your art accordingly. PUBLICITY: Any winning entry may be used for publicity in the 2023 show. All entries must have been completed within the last three years. A signed and completed entry form must accompany each work. Independent work that was professionally critiqued or independent work done in a classroom environment may be entered. Artists may enter no more than 3 entries per category and no more than 9 entries total. Entries cannot have been shown in successive Clovis Art Guild juried shows. UNACCEPTABLE ENTRIES: Artwork that has been done by any printing processes. Copies of another artist's or photographer's work from postcards, art books, magazines or other printed material may not be entered. Art depicting famous people or celebrities must have written permission of the celebrity or famous person attached to the entry. Work created as a part of a class assignment may not be entered. All oils must be completely dry. Watercolor, Pastels, graphics and some types of Mixed Media must be under glass. Frames must be in good repair and ready to hang. THERE WILL BE NO REPAIR TABLE. All paintings must be framed (gallery wrap 1.5— 3" on the edge is acceptable). Use of metal frames is at the risk of the artist.. Screws for hanging must be no more than 4" inches from the top of the frame and the wire must not show over the top of the frame. Please use flat hangers with wires only, no saw-tooth, eyelet hangers or quick frames and no screw eyes. The ends of the wire must be taped or sleeved with plastic. Art may not be removed before the close of the show.

Show Chairs:
Alice Sutton 559-787-2386 / Gail Daley 559-960-2428 E-Mail: CAG@clovisartguild.com
Art Receiving For EXHIBIT
Exchange is done every two months on the third Wed at, 11AM. 5566 E. Kings Canyon, Fresno, CA 93727 (SW Corner Clovis & Kings Canyon) in the Quiet Room. For more information, contact Gail Daley gaildaley2295@comcast.net or phone 960-2428
2023 Old West & Rodeo Art Show
Brochure Cover Contest
OIL/ACRYLIC: 1ST Lola Nelson-Sunrise at Cotler Bay, 2ND Eileen Rounsaville-Hat Day, 3RD Beverly Elrod-Changing Season
WATERCOLOR: 1ST Beverly Elrod –America Strong, 2ND Elizabeth Olive-Zin,
3RD Susan Patterson- Jelly rising
PASTEL/ DRAWING: 1st Diane Breuer-Casanova, 2nd Suzie Stach-Stream Reflections
3rd MaryAnn Ferstl-Gilroy Country
SPECIAL THEME – OLD WEST & RODEO: 1ST Lola Nelson- Packing It Out,
2ND Beverly Elrod –Another One Bites The Dust, 3RD AJ Sutton-Hunter
BEST OF SHOW: Eileen Rounsaville -Garabaldi
MARY KRAUSE AWARD: Susan Patterson- Jelly rising
PEOPLE CHOICE Diane Breuer-Casanova
7:00 – 8:00 PM, at the Clovis Veterans Memorial building, 808 4th Street, Clovis, CA 93612.
OPEN TO ALL CLOVIS ART GUILD MEMBERS. MEDIA: black and white drawing, no larger than 5" x 7", in pen & ink or pencil. Drawing must be photocopy ready. Subject should be the Old West or the Rodeo. PRIZE: $25
AWARDED AT THE APRIL GENERAL MEETING. DRAWING WILL APPEAR ON THE COVER OF THE SHOW CATALOG (BROCHURE) AND ON PROMOTIONAL FLYERS FOR THE SHOW
MINIATURE WORKS FINE ART SHOW
There will not be a MINIATURE WORKS FINE ART SHOW this year due to remodeling of the venue.
SUNNYSIDE LIBRARY GALLERY
MEMBER EXHIBIT
2023 Sunnyside Library Exhibit
NEXT RECEIVING DATE WILL BE JULY 20 AT 11:00 AM
The exhibit will stay up until March 16th when a new exhibit will go up. Any member can join the Exhibit. The art can be original, classwork, or even photographs. The only thing is since Sunnyside has a hanging system, the work must be wired to hang. Pretty much the same requirements as for one of our shows.
Artists particepating in this exhibit: Georgia Verduzco, Elizabeth Olive, Shirley Lindgren, Alice Sutton, Jackie McCoy, Gail Daley, Jeanne Naito, Meganne Gore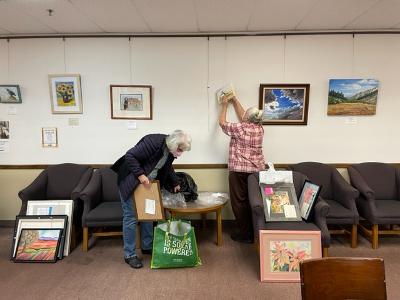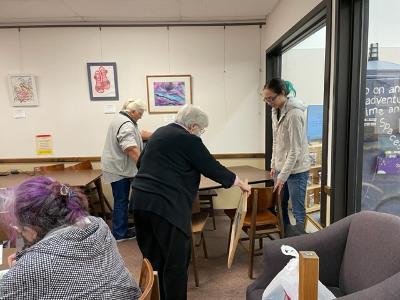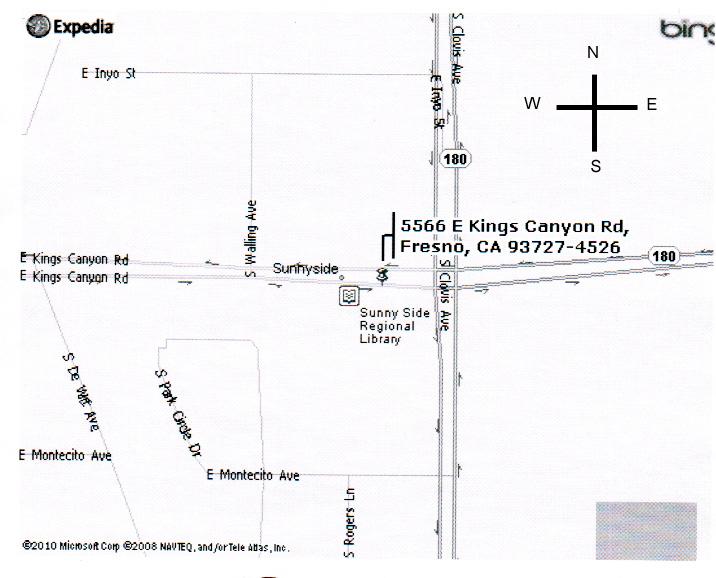 SUNNYSIDE GALLERY HANGING REQUIRMENTS
All Art must be framed or gallery wrapped with a wire hanger (ends must be taped or sleeved). Please see the hanging standards as shown on our website: www.clovisartguild.com
Please Note: Art is in reach of library patrons. Artists must be prepared to assist with hanging. Display cards will be provided. Artists may bring up to six (6) paintings. We will try to hang everything brought but due to the size of the room it might not be possible.
Art may be original paintings, classwork,or artistic photographs.
New art is put up every two months on the the 3rdWednesday of the 2ndmonth.
For more information, please contact gaildaley2955@comcast.net or phone 559-960-2428, or Alice Sutton at 559-787-2386.
Not yet a member? You may join at receiving. Membership dues are $30.00/year. CLICK HERE to download membership application
© Clovis Art Guild 2022. All rights Reserved.